Fashion is the way we as humans present ourselves to the world. It is the first thing people notice about us, it is what makes us stand out. To quote William Shakespeare, "All the world's a stage, and all the men and women merely players", therefore, fashion is the costume for this dramatic production called life. Jonatan's background in styling ranges from editorial covers to everyday street style. With diverse team of bloggers, photographers, and retailers, Jonatan can take on any client to help the person or brand stand out.
La moda es la forma en que nosotros como seres humanos nos presentamos al mundo. Es lo primero que la gente nota acerca de nosotros, es lo que nos hace destacar. Para citar a William Shakespeare, "Todo el mundo es un escenario, y todos los hombres y mujeres simplemente actores", por lo tanto, la moda es el disfraz de esta dramática producción llamada vida. Los antecedentes de Jonatan en el estilo van desde las portadas editoriales hasta el estilo callejero cotidiano. Con un equipo diverso de bloggers, fotógrafos y minoristas, Jonatan puede asumir cualquier cliente para ayudar a la persona o marca a destacar.

---
| | |
| --- | --- |
| Southern Living Magazine "Charleston's Best" Edition | Charleston Magazine "The Luxury Issue" |
---
P: (706) 871-9396

E: jonatanguerreroramirez@gmail.com

​
Powered by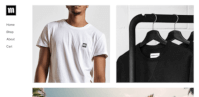 Create your own unique website with customizable templates.